Community Business Highlight: Baked By Bibis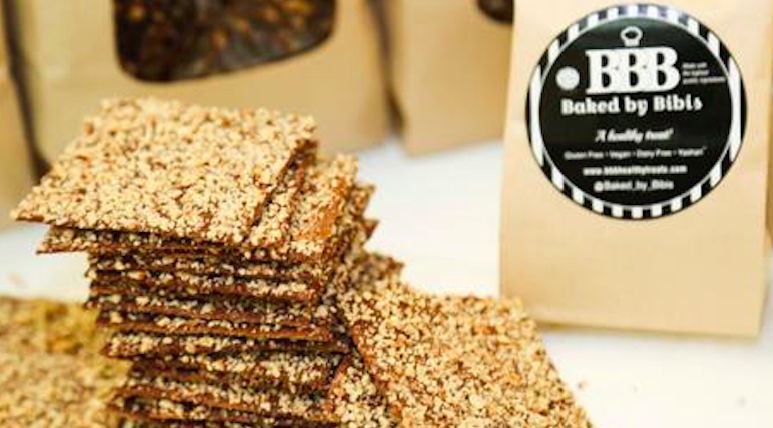 In today's world, healthy and clean eating is on the rise. The up and coming consumer generation, known to many as millennials, are a very knowledgable crowd and demand products that are both good and good for you.
A duo that has been able to monetize on that demand is Sara Bibi and Barbara Dayan, a mother-daughter duo from Brooklyn, NY. Bibi and Dayan have taken healthy treats to new heights with their brand, Baked by Bibis. With their original brand of muffins and brittle, these women have been taking the market by storm. They are now in several retail stores in the New York and New Jersey areas such as Ouri's Fruits, Kosher Corner, Health Nuts, 711, and more.
A healthy brittle treat made and sold by Bibi and Dayan.
It all started in 2015 when Barbara began making healthy desserts in her mother's kitchen and decided she would sell them. She was still single at the time and thought her endeavor would keep her bust. Soon, her mother Sara would join her. That's when they really had begun to innovate some new and exciting recipes.
As time went on, they were selling a lot of their products. Bibi and Dayan were pleasantly surprised by the sudden offers they got to present their products at boutique shows as well. Before they knew it, retail stores were also calling them, asking to sell their products at their locations.
A display of Baked by Bibis brittle displayed at Kosher Kingdom in Miami, Florida.
With their immense success, the high demand for their products proved difficult to keep up with for Bibi and Dayan.
"There was a point where baking was taking over our lives and becoming too much for us to handle," explained Bibi of their overwhelming success, "We were home everyday in the kitchen and starting to feel like we wanted to take a break or stop so we can have time for ourselves."
Chocolate almond sea salt brittle made and sold by Bibi and Dayan.
The duo knew what they had was too special to put on pause, so instead they hired people to make their products in order to make the business more manageable. As it goes, with growth comes expansion.
They eventually moved out of their home kitchen and into a larger more spacious commercial kitchen. The commercial space opened the door to getting a Kashrut on their packaging under the guidance of Rabbi Yechiel Babad as well.
Packaged loaf cakes ready to be sold.
"We compliment each other and both have strengths in different areas of the business. It makes it much more fun and not too serious," said Barbara when asked how the family dynamic works in the business, "It's definitely a lot of laughter and a lot of bonding. Obviously there are times we argue, but the good outweighs the bad."
People approach Bibi and Dayan a lot to congratulate them on their business, but they both attribute their success to Hashem, first and foremost.
"Hashem gave us this and can take all the business away in a blink of an eye," explained Barbara, "So it is very important to us to always know our success is from Hashem and to never let it get to our heads."
To learn more about Baked by Bibis, visit their website or follow them on Instagram @baked_by_bibis.
Frieda Schweky is Sephardic.Org's official community events reporter. For inquiries and to get involved with our site, please contact Frieda via email.
You may also be interested in...